The Zehnder Carboline radiant heating and cooling panel has been awarded "Energy-Using Product 2011" by CIBSE at their annual awards ceremony. The CIBSE Building Performance Awards recognize, reward and celebrate the best performance, innovation and practice in building services. The Zehnder Carboline radiant heating and cooling panels set a new standard in efficient temperature control. Utilizing innovative material technology which incorporates the use of expanded natural graphite, it combines outstanding performance with superior energy efficiency.  
Product development 
When developing the Carboline, Zehnder relied on the material competence of SGL Carbon AG, one of the world's leading manufacturers of carbon products. With many decades of experience in exploiting the unique properties of natural graphite as a raw material, SGL Carbon has been able to develop a wide range of new applications for the material, one of which is improving heat distribution in surface heating systems.  
The physical and mechanical characteristics of expanded graphite made it the obvious choice for the Zehnder Carboline. It has excellent thermal conductivity, low density and is non-corrosive, making it ideal for use in ceiling mounted heating and cooling panels. The non-flammable and aging resistant properties make expanded graphite the perfect material for use in buildings.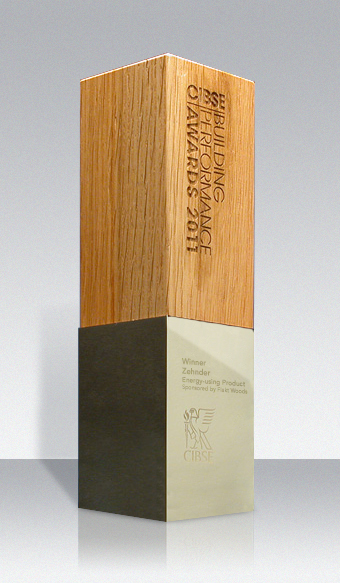 Product innovation
Zehnder Carboline is the first radiant panel to use this innovative material technology and was developed at Zehnder, Germany. The panel itself is made from copper tubes which are embedded into a compressed graphite panel. This patented high performance thermal element is then firmly bonded to a galvanized sheet steel cassette.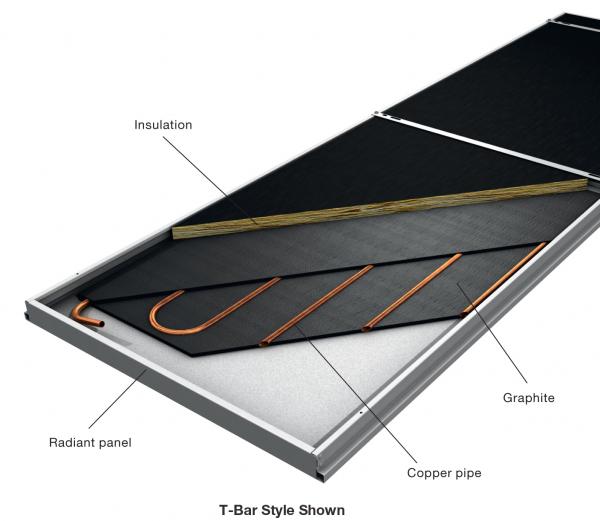 The benefits of the Zehnder Carboline
Even distribution of temperature
Unlike existing products which can have significantly varying temperature profiles, the Zehnder Carboline achieves excellent temperature consistency. The compressed graphite distributes the energy across the entire panel creating an even surface temperature profile, breaking away from the hot and cold spots created by the typical ceiling panel design that mechanically bonds copper tubes directly to the steel panel.
Illustration A, above, clearly shows the difference between the Zehnder Carboline and a standard radiant heating and cooling panel.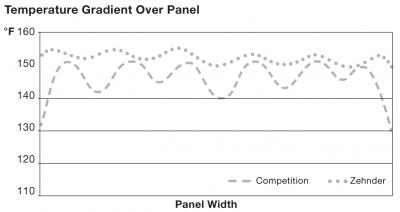 Illustration B, above, also shows the Zehnder Carboline in comparison to existing products in the market. 
Heat transfer and efficiency
The excellent thermal conductivity properties of the natural expanded graphite also means that the Zehnder Carboline is extremely efficient. It can exchange 95% of the heating and cooling energy from the water running through the copper tubes whereas a standard panel can only achieve 80-84%.
Quick reaction time
The combination of even temperature distribution and extremely efficient heat transfer also makes the reaction time of Zehnder Carboline, under alternating cooling or heating loads, much faster than any of its rivals. This rapid response ensures greater levels of energy efficiency and creates a fully controllable system.
Illustration C demonstrates thermographic images to show the difference in performance of the Zehnder Carboline panel and an existing, comparable product, each under the same operating conditions (supply and return temperatures and mass flow rate). It can be seen that Zehnder Carboline responds much faster to changes in temperature in the transition from heating to cooling mode and achieves even temperature distribution in both states. This provides a highly reactive system which is better able to achieve the desired room conditions with optimal efficiency.

Illustration C
Combined performance
The combined benefits listed above make Zehnder Carboline the most responsive and energy efficient radiant panel in the market. It is able to achieve the desired level of room comfort with optimal efficiency. 
Illustration D, below, shows the heat up time for a Zehnder Carboline panel. Within 4 minutes the perceived air temperature is already 66 °F and within 6 minutes the system is up to temperature. In comparison a standard radiator would take between 30 and 60 minutes to achieve the same result.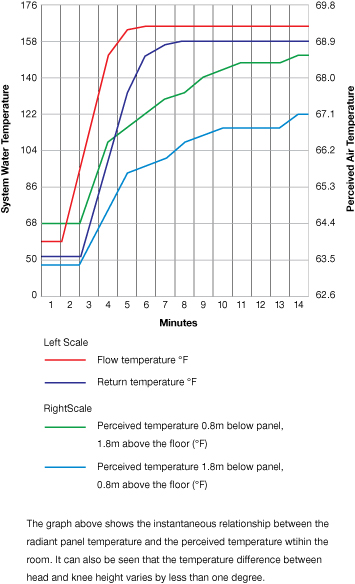 Illustration D
Green Credentials 
100% recyclable 
Manufactured from natural graphite, a naturally occurring material and an inorganic modification of carbon, the Zehnder Carboline is 100% recyclable, making it a fully sustainable heating and cooling solution. 
Reduces energy consumption
Due to the high efficiency and exceptional controllability of the Zehnder Carboline panels, less energy is used and, consequently, lower emissions are produced than with standard radiant heating and cooling panels.
A renewable energy solution
The Zehnder Carboline can also operate at lower water temperatures, which enables the use of renewable energy resources such as solar as well as ground source and air source heat pumps. This further enhances its overall ability to achieve carbon reductions as part of building services.